2019 Nahant Vintage Dance Weekend Full Schedule

Dance Class: The Quadrille Français, part I 10:00 am - 12 noon
with Geneviève Dulac & Kris Arnold
This year we will be presenting an opportunity to learn the Quadrille Français, it will be taught by Geneviève Dulac & her husband Kris Arnold, who are active in the vintage dance community in France.

This Quadrille was the sequence most danced in balls during the first half of the 19th century. The choreography that will be presented was first written by Eug&egravene Giraudet. The dance consists of five simple figures, each to an 8 count. It is considered a social dance since it is easily enjoyed by dancers of all levels including complete beginners. There will be an opprotunity for class participants to dance the Quadrille during the Saturday night Ball.

Comfortable clothes and flexible-soled shoes are recommended for the classes.
| | |
| --- | --- |
| Lunch: Noon - 1:00 pm | Lunch sign-up will be available soon |




Dance Class: Persian Gardens Tango and other favorites 1:00 - 2:30 pm


Chris Ricciotti & Katy Bishop
More details coming soon.


Costume Class: Arts & Crafts Embroidery with Sue Fischer, 2:45pm - 4:45 pm
Back by popular demand! This class will teach a simple method of ornamenting linens that was popular in the 1910s and early 20s. Participants will choose a period motif, color it with the wax transfer method, and outline the motifs with embroidery cotton to make a modesty panel or pocket. You can wear the modesty panel with most 1910s or 20s dresses or blouses (think "Armistice Blouse") or sew on a patch pocket to any skirt. I even have three modesty panels that I wear to work with low-necked tops.

Advance registration is recommended, class is limited to 15 students, with a $15 fee that includes materials (please bring your own needles (get ones with a fairly large eye, that will accept pearl cotton), embroidery hoops, and scissors! Anyone who attended my first class and did not finish their bag is welcome to come and work on it.

During the early 20th century, several firms sold kits with the linen already stamped and colored. Sometimes needleworkers would merely outline the motifs (or not) and sometimes they would either embroider over the whole motif or pick out parts of the design in colors of their choosing. For this class, I will choose and transfer the motifs, and you will pick your favorite colors to fill them in.

Registration closed for this class, if you would like to come and work on your own sewing or embroidery project you may join us for the afternoon.



Silent Film & Informal Dancing, 7:00 - 11:00p
"Safety Last" with Harold Lloyd (1923), with Jeff Rapsis on organ.

After dinner on your own, we'll meet back at the Knights of Columbus for a silent film. Upon arrival, you can grab a drink and snack, and enjoy a lovely view of the sunset over Boston from the gazebo. Light movie themed refreshments will be served, and the film will be followed by informal dancing to recorded music.


The film will be "Safety Last" with Harold Lloyd (1928), with live organ acompaniment by Jeff Rapsis. The story of 'Safety Last' follows young go-getter Lloyd to the big city, where he hopes to make his mark in business and send for his small town sweetheart. His career at a downtown department store stalls, however, until he gets a chance to pitch a surefire publicity idea-hire a human fly to climb the building's exterior. What could go wrong? Before and after the film we will have dancing to recorded music from various eras as time allows. It's a time to connect with friends old and new.


Friday, August 9
all events at the Nahant Knights of Columbus
17 Relay Yard, Nahant, MA
Dance Class: The Quadrille Francais part II, 10:00 am - 12 noon
with Geneviève Dulac & Kris Arnold
We continue learning the Quadrille Francais. This Quadrille was the sequence most danced in balls during the first half of the 19th century. The choreography that will be presented was first written by Eugène Giraudet. The dance consists of five simple figures, each to an 8 count. It is considered a social dance since it is easily enjoyed by dancers of all levels including complete beginners. There will be an opportunity for class participants to dance the Quadrille during the Saturday night Ball.
| | |
| --- | --- |
| Lunch: Noon-1:00 pm | Lunch sign-up will be available soon |
Dance Class: Dancing Your Way into the 1910s and 1920s, 1:00 - 2:30 pm
with Chris Ricciotti and Katy Bishop
A class for those would like to feel more confident moving, leading and following to the music and choreography of the 1910s and 1920s. Definitely recommended for anyone planning to attend the Friday evening Gatsby party! We'll go over solid basics on how to hold your partner, providing good frame while dancing, negotiating with your partner, practicing choreography and footwork of dances of this era, as well as how to mirror your dancing and styling to what you feel in the music. Though we'll provide plenty of instruction, our goal is to provide plenty of time for dancing to this music so everyone can feel comfortable and more confident in their dancing.

Comfortable clothes and flexible-soled shoes are recommended for the class.

Dance Class: Dances with the Joy and Wild Abandon of the early Jazz Age, 3:15 - 4:30 pm
with Idy Coddington
Join Idy Codington to explore the basics and some of the flashy steps of the Charleston, learn to Peabody around the dance floor and, if there is time, become a Lindyhopping Jitterbug.


Comfortable clothes and flexible-soled shoes are recommended for the class. Gatsby by the Sea: Formal Dinner & Dancing with the Nahant Society Orchestra featuring Dan Levinson & Dan Gabel
at the Nahant Country Club, 6:30 - 11:00 pm
280 Nahant Rd, Nahant, MA 01908

Our formal Dance Holiday really takes off with a wonderful repast followed by dancing as we meet new friends and catch up with old ones. Before dinner, enjoy hors d'oeuvres while watching the sunset from the piazza, or stroll in the garden while sipping a cocktail (cash bar); dinner will be served at 7:00 pm. arrive at 6:30 pm for cocktails, 6:00 pm if you need to change into your finery.


We'll then dance the night away to fabulous live music by the Nahant Dance Orchestra playing Ragtime and Jazz for your dancing pleasure. Our orchestra includes world renowned band leader Dan Levinson on clarinet and saxophone; Sue Fischer, drums; Dan Gabel, trombone; Jan Frenkel, piano; Justin Meyer, bass; Alex Owen, trumpet.

The musical program will begin with 1910s tunes during dinner and gradually progress through the 1920s, concluding with some hot jazz to lift your spirits. Suggested attire is formal evening wear of any era, with an emphasis on turn of the century through 1920s dress in keeping with the spirit of the evening.)
Saturday, August 10
Vintage Bazaar, 10:00 am - 1:00 pm, Nahant Town Hall
We will shop 'til we drop at the vintage bazaar. We always have a wide array of vintage items for your shopping pleasure. In the past we have had period clothing from the nineteenth and early twentieth centuries, jewelry, hats, books, sewing trims, shoes, and modern reproduction clothing.

Let us know if you wish to reserve a table ($10 fee per table/$5 half table). Email us if the cost is a hardship, if you only have a few items, or you have free items to trade.



| | |
| --- | --- |
| Lunch: Noon-1:00 pm | Lunch sign-up will be available soon |
Dance Class, Topic TBD, 1:30 - 2:45p


Dance Class: Ballroom Basics with Ben, Katy & Nick Bishop, 3:00 - 4:15p
Nahant Town Hall, 334 Nahant Road, Nahant
The pre-ball beginner workshop will introduce the figures of the Nahant Quadrille, a contra dance called Trip to Nahant, and we'll go over the basics of waltz and polka for beginners. This class is designed for ball attendees who need a basic refresher just before the evening's ball. Comfortable clothes and flexible-soled shoes are recommended for the class.
The Grand Ball: An Evening in Vienna at the Town Hall, 7:30 - 11:00p
Enjoy this evening of 19th century dance and music evoking the Belle Epoque Vienna of Strauss & Lehar, plus a scrumptious offering of refreshments, at the historic Town Hall. Music will be by Spare Parts.


Dances will be a mix of Set Dances, the Nahant Quadrilles, Waltzes, Polkas, and Galops from the second half of the 19th century. There will be a dance card, but there will also be many extra dances not on the card. Suggested attire is evening wear 1860-1900; this is a good venue to accommodate a hoop skirt if you've been waiting for the opportunity. Changing space will be available.
(Savory & sweet refreshments, punch, fruit, home-made sorbet will be served)
Sunday, August 11, Nahant, MA.
Nahant Village Church, 27 Cliff St, Nahant

Waltzes Old and New, 1:00 - 2:30p
Live Concert with Spare Parts
After a morning of shopping, sightseeing, or sleeping-in, we will conclude our weekend -at the historic Nahant Village Church with a relaxing afternoon, starting with a concert by Spare Parts.

Set aside your dance shoes and let Spare Parts (Liz Stell, Bill Matthiesen, and Eric Buddington) share some favorite waltz melodies old and new, from the early 1700s to the turn of this century.
Formal Tea 2:30 - 4:00p
After the concert, we'll enjoy a Victorian Formal Tea with John Burrow's famous scones with home-made jams and fresh whipped cream! To accmpany the scones we will serve hot tea, with several choices of fresh-brewed black and flavored teas, ice cold lemonade, along with finger sandwiches and fresh fruit.




Informal Dancing, 4:00 - 5:00p


After tea, Spare Parts will return with a program of 19th & early 20th century tunes for dancing.



Victorian Promenade, 5:00 - 6:30p (approx.)


The day will conclude with a seaside promenade to East Point, the former site of the famous Nahant Hotel. For our promenade we will walk from the Village Church, down Nahant road, past Forty Steps Beach, Canoe Beach, and several historic estates. We will progress to the easternmost point of Nahant, to Lodge Memorial Park, the site of one of the first summer resorts in the United States and the Nahant Hotel. There you can marvel at almost 360° views of the rocky shore, open ocean, Boston skyline, lighthouses, and more. We ask that everyone remove their belongings from inside the church before the promenade; you may leave your car parked at the church. We recommend sturdy walking shoes and a parasol, and don't forget your camera!
Monday, August 13, Nahant, MA.
Fabric Shopping at Zimman's, Lynn, MA, 10 am

Monday morning we will head over for a quick trip to Zimman's Fabric Store in Lynn (80 Market St.), a shop full of the most exquisite decorator fabrics, silks, wools, linens, and cottons that are perfect for period ensembles.
&nbsp'
Downton Abbey: The Exhibition
In the afternoon we will meet for a tour of the Downton Abbey Exhibition in Boston, probably at 2:00 PM. Details will be available too, let us know if you wish to attend.
VENUES
Our events will be taking place in several of Nahant's many historic venues where we will enjoy the town's lovely scenic views, sea breezes and step back in time.


The Nahant Knights of Columbus

The Nahant Knights of Columbus (17 Relay Yard,) is located on the shore with a lovely veranda and lawn with gazebo that overlooks Lynn Harbor and the Boston skyline where you'll see a spectacular sunset. The building is air-conditioned. There is a large, free, parking lot.

view from the veranda


---

The Nahant Country Club

The Nahant Country Club (280 Nahant Road) is housed in the former Frederick Tudor Homestead, built in 1824-25. It became the Nahant Club in 1889 for the use of Nahant's fashionable Summer colony. It is now a venue for weddings and other special events, and has tennis courts on the grounds. The building is air conditioned. There is a large, free, parking lot.

Tudor Homestead ca. 1890


---

The Nahant Town Hall (1912)

The Nahant Town Hall (1912), 334 Nahant Road, has been the home of the Nahant Victorian Ball since it began almost three decades ago! This 1912 building has a lovely main hall with large Palladian windows on each side to take advantage of cooling sea breezes. There is a parking lot and on-street parking.


Nahant Town Hall ca. 1920

---

The Nahant Village Church

the oldest church in Nahant. Sunday services were held as early as 1820 in a small stone school-house. The first church, called the Nahant Church, was built in 1832 as a "Summer Church" for those from Boston who spent their summers in Nahant. Services were held from the first Sunday in July through Labor Day. Ministers from the Boston area came to preach, including Rev. Phillips Brooks, rector of Trinity Church in Boston and author of a favorite Christmas Carol, "O Little Town of Bethlehem." The Nahant Church was badly damaged in a storm in the 1850s and was replaced in 1868 by the granite and wood main sanctuary that is in use today. On-street parking is available.




---

East Point and Lodge Park

East Point is home to Lodge Memorial Park, the site of one of the first summer resorts in the United States and former location of the the Nahant Hotel, and the Northeastern University Marine Science Center. There one can see the Boston skyline, Graves light, and almost 360 views around Boston Harbor.

This site has a very interesting history. The Nahant House was built in the early 19th century, and was the place to go in the Summer for relaxation and entertainment. The hotel burned in 1860. Later the land was home to grand summer estates, including that of Senator Henry Cabot Lodge, whose ice house still remains today. During WWII the army built bunkers, watch towers, and gun batteries on the point in case of enemy invasion. The Bunkers are now covered with trees and brush and are used as research space. In the 1960s the government gave the land to Northeastern University and they now have a Marine Sciene Research Center there. In the 1988 Lodge Memorial Park was dedicated; the Park was created using fill from Boston's "Big Dig" project.

East Point showing the Lodge Estate, early 20th Century

DANCE WEEKEND STAFF
Katy Bishop
Katy Bishop, event coordinator, dance instructor, and costume class instructor, is a Nahant native and an avid
vintage dance enthusiast. She and her husband, Ben, have been organizing the Nahant Victorian dance weekends for more than 25 years; they will be co-teaching the Ballroom Basics class before the Grand Ball; she will also be assisting Chris Ricciotti. Her Viennese mother passed on her dressmaking skills, love of dance, and sense of fun, and her father from Budapest instilled in her a love of history and a desire to preserve her family's heritage. She came to vintage dance for the costumes—but stayed for the dancing. Her hair, at a length of more than four feet, is the perfect accessory for Victorian ensembles.
She is currently an independent costume historian, vintage dressmaker, vintage dancer, long-time member of The Commonwealth Vintage Dancers, & mother of three kids who are developing a love of costuming, dance, and appreciation of the humor in life. Ben and Katy's son Nick has become an avid vintage dancer and musician, much to the delight of his parents.
Ben Bishop
Ben Bishop, event co-host, prompter, dance teacher, and dancemaster for the Grand Ball, has been involved in Vintage Dance with his wife Katy for over 25 years. In the real world he is a software engineer. Dear to his heart is seeing the humor in life and appreciating sarcasm, a fact that will not surprise anyone who knows him; as he has taught his three children: Sarcasm is your friend. And, as everyone should know: Monty Python's Ministry of Silly Walks auditioned a Polka Redowa; dance and humor go hand in hand (or rather foot in foot).
Idy Codington
Idy Codington, researches and recreates historic Spanish and Native American dance for Theater with a Mission in Tallahassee, FL;
a small company which produces Spanish Golden-Age plays in English peppered with Spanish. With an MA in American Dance Studies from FSU, Idy performs, teaches, choreographs, and recon-structs the dances of America's past. She has danced professionally with The Ohio Ballet, toured the US and the world with the Kamikaze Jitterbugs, and danced and taught as a member of the Commonwealth Vintage Dancers. Idy is happily married and enjoys living and dancing in Tallahassee.
Geneviève Dulac
Geneviève Dulac, asissted by her husband Kris Arnold, has been a dance performer and teacher,
a dance company developer and a consultant to the Massachusetts Arts Council among other roles during her transatlantic career. Her dance roots are in Bharatanatyam classical Indian dance, her study of which earned her a PhD from the Sorbonne in Paris, classical ballet, modern and Spanish, though her more recent adventures have led her to European historical dance. She has been a consultant to psychiatric hospitals in France on dance therapy. She currently teaches yoga, dance and exercise classes in France.
Sue Fischer
Sue Fischer, grew up in a family of craftspeople and will try almost any new craft once, but prefers embroidery, beadwork, and ribbon flower making.
She started collecting vintage clothing, lace, and trim in 1980, and was happy to find a use for all of it when she started working at Old Rhinebeck Aerodrome and discovered vintage dance in 1986. After spending 5 years in New Orleans and 5 years in Chicago, she now lives within driving distance of Nahant and is excited about sharing vintage sewing techniques with her friends.
Chris Ricciotti
Chris Ricciotti Over 35 years of calling, organizing and leadership experience in traditional dance. Founder of the Lavender Country & Folk Dancers (LCFD), 1988, a community of gender-free dancing around New England and the US.
His specialties are creating a warm, inviting and inclusive environment for dancers of all levels and ages, from first time dancers, to more experienced crowds with clear and patient instruction. His goal in dance leadership is to bring the enjoyment of a fun, social and interactive dance experience for all. He enjoys dancing a lot of different dance styles, which gives him a large repertoire to draw from. Though much of his focus is New England Contra & Square dancing, he also enjoys teaching and dancing International Folk dances, English & Scottish Country Dancing, Scandinavian turning couple dancing, as well as programs of historical, Vintage, and couple dances. Though not a regular musician, enjoys playing the melodeon occasionally for English, Contra, International, couple dances and Morris dancing.
THE MUSIC IN NAHANT
Silent Film Evening
About the Music
JEFF RAPSIS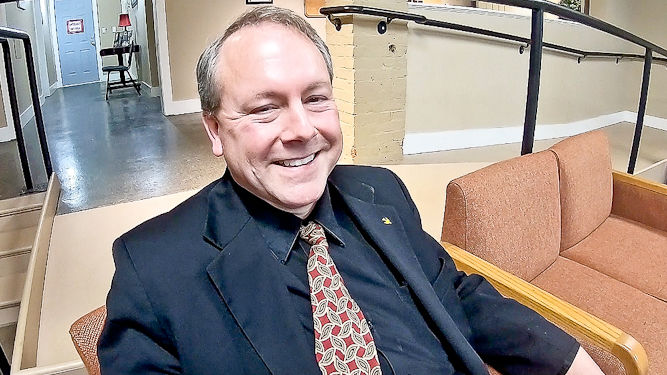 Jeff Rapsis is a writer/editor, educator, and also a composer and performer who specializes in creating live musical scores for silent film screenings. He does other things, too. Specific talents include an ability to place coins on either elbow and then catch them in the same hand before they hit the floor, though sometimes he misses and the coins go flying just everywhere. He's also an award-winning journalist, newspaper publisher, and owner of multiple dogs.
Spare Parts
About the band
LIZ STELL & BILL MATTHIESSEN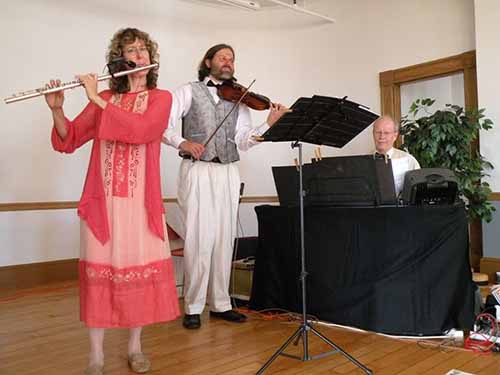 The music for the Nahant events will be provided by Spare Parts: Bill Matthiessen, Liz Stell, and Eric Buddington. On piano and flute, Bill and Liz play romantic couples dances, hot contras, and historically accurate programs for Regency (Jane Austen era), Victorian (1860s), Gilded Age (1890s) and Ragtime. Argentine tangos, milongas, and vals are a special passion of theirs. Liz and Bill usually play as a trio with violin.


ERIC BUDDINGTON
Our Spare Part for the weekend, Eric Buddington, switches effortlessly between fiddle and violin. He excels at Argentine tangos, waltzes, and milongas; he also joins Spare Parts for Regency balls, Ragtime balls, and English country dances as well as contras and concerts. He performs with on The Regency Ballroom and Returning Heroes CDs. Formerly (and occasionally still) with the Flying Garbanzos, Eric also performs with several other ensembles.

We will be dancing to music of the period. Many of the tunes come from sheet music dedicated to Nahant, such as the Nahant Polka and Nahant Quadrilles. If you are interested in enjoying the music ahead of time, we have produced the Dancing by the Shore CD with Spare Parts.
Nahant Dance Orchestra
On Friday night we will be enjoying Seaside Syncopation as we dance to the LIVELY rhythms of the Nahant Society Orchestra. We'll enjoy period dance music from our 6 piece orchestra as they take us through the early 20th century, with tunes from the early 1900s during dinner, and music of the 1910s and 1920s during the ball.

Our band includes: band leader Dan Levinson on clarinet/saxophone, Sue Fischer on drums, Jan Frenkel on piano, Dan Gabel on trombone, Jeff Hughes on cornet, and Justin Meyer on bass.

About the band
DAN LEVINSON: Clarinet
Equally at home as both leader and sideman, Dan Levinson's roster of musical associates includes such names as Mel Tormé, Wynton Marsalis and Dick Hyman. Originally from Los Angeles, Dan has been based in New York since 1983, although his busy schedule often takes him across the continent and around the world. He has performed in Brazil with filmmaker Woody Allen's band, as well as in Japan, Iceland, Latvia, and eighteen European countries.

From 1990 to 2002 Dan toured with singer/guitarist Leon Redbone. Since 1993 he has been a member of Vince Giordano's Nighthawks, with whom he has appeared at Carnegie Hall, on Late Night with Conan O'Brien, and on Garrison Keillor's A Prairie Home Companion radio program. Dan's successful Benny Goodman tributes have been presented both on the East Coast with James Langton's New York All-Star Big Band—NYC's preeminent swing orchestra—and throughout Germany with Andrej Hermlin's Swing Dance Orchestra. Dan has recorded over 150 CDs, including nine under his own name. He can be heard on the soundtracks to the films The Cat's Meow, Ghost World, The Loss of a Teardrop Diamond, and Martin Scorsese's The Aviator, as well as on virtually all of the newly recorded music used on the soundtrack of the Grammy Award-winning HBO television series Boardwalk Empire, which ran from 2010 to 2014.

SUE FISCHER: Drums
Sue Fischer began playing drums in 2005 while living in New Orleans. Her first paying gig, at the Miss New Orleans Pageant, was cancelled due to the band's evacuating the city in advance of Hurricane Katrina. She has studied with jazz legends Hal Smith and Wayne Jones, and founded the Audacity Brass Band of New Orleans in 2008. She plays at the annual Armistice Ball in Morristown, NJ, along with Dan Levinson and friends.

JAN FRENKEL:Piano
Jan Frenkel, grandson of the prominent Ukrainian violinist and composer, is a renowned Connecticut pianist, well versed in the players of the 20s and 30s. At 6' 9", he barely fits his knees under the piano. Jan has played with Dan Levinson bands at the Hot Steamed Jazz Festival in the past.

DAN GABEL: Trombone
Dan Gabel has been passionate about music since first hearing the sounds of Beethoven to Big Bands at the age of three. By age thirteen, Dan began his professional music life playing trombone in local Big Bands. In 2009, Dan was hired to play trombone with the Glenn Miller Orchestra, enjoying a year-long gig that included 46 states, Canada and an extensive tour of Japan. He worked as an arranger for the Miller band and served as the band historian. Dan also has his own big band, "Dan Gabel and The Abletones."

JUSTIN MEYER: Bass
Justin Meyer earned a Master's Degree from the Longy School of Music, where he studied with Charlie Binacos. He attended the Berklee School of Music and holds a B.A. in Philosophy from the University of North Carolina at Chapel Hill. He is on the faculties of Brookline Music School, Indian Hill Music, and The Concord Conservatory. He also performs frequently at Boston Swing Central with his own band, The Meyertet, and other groups.

ALEX OWEN: trumpet
Originally from New York City, trumpeter Alex Owen moved to New Orleans in the summer of 2012 to play traditional jazz and swing. Since his move to New Orleans, Alex has led the Messy Cookers Jazz Band, an upstart traditional jazz band. The band has kept busy by playing regularly at many great venues around the city including the French Quarter. In addition to performing at numerous private events, the band has also played at the French Quarter Festival, the Brunch Fest NOLA festival, the Creole Tomato Festival, the Slidell Antique street fair, the Abita Springs Opry, and the Covington Farmer's market. The Messy Cookers have traveled to play events all over the southeastern US.
LODGING
We have a hotel room block reserved for our dancers. There are no hotels on Nahant itself, this is a hotel with easy access to Nahant, there are also many Air B & B listings in Nahant, Lynn, Swampscott, Salem, and Marblehead within easy driving distance of Nahant. Please email us if you have any questions.
HOTEL ROOM BLOCK
We have A room block reserved at a nearby hotel for the dance weekend. The Sheraton Four Points ($169 single/$179 double occupancy, rate available through July 28)
(781) 284-7200
407 Squire Road, Revere (about 20 minutes away)

Use this link to register:
Vintage Victorian Room Block


Start Date: Thursday, August 8, 2019
End Date: Monday, August 12, 2019
Last Day to Book: July 28, 2019
OTHER LODGING
Comfort Inn & Suites, 781-485-3600
85 American Legion Highway (Route 60 near 1A), Revere, about 20 minutes away.


Ocean View B & B, 781-598-6388
email: ocean@shore.net, 11 Ocean Street, Lynn, 10 minutes away
Informal period ambiance.


Other hotels and Bed & Breakfast listings can be found on our Lodging and Dining page.
Frequently Asked Questions
DO I NEED TO BRING A PARTNER?
Though a partner of one's own is a help at a ball, please don't let the lack of one keep you away! During the ball, folks mix and dance with many different partners throughout the evening. We also do not gender balance so singles will not be placed on a waiting list. Many singles, both male and female, attend the events. Proper 19th Century etiquette encourages dancers to dance the first and last dance with the person they came with, but to dance with many different partners during the rest of the evening.
CAN I JUST COME AND WATCH?
The ball is great fun to watch (almost as fun as actually dancing). There is a great view from the Balcony, something of a Busby Berkeley experience during the Quadrilles and Contra Dances. There is no fee for watching, but donations are appreciated especially if one wishes to partake in refreshments. If you wish to watch the promenade come to East Point, along Nahant Road and Canoe Beach after 5PM Sunday. Be aware, if you are coming from out of town, there is no public parking in Nahant. Weekend attendees will be allowed to park at the event venues, you will get a parking placard upon arrival. Parking restrictions are strongly enforced, especially during beach season.
CAN I BRING MY CHILDREN?
Children are welcome at the ball if they are accompanied by an adult, and they must be well behaved and supervised during the Ball. Younger children, if they wish to participate in the dancing, might be admitted for a reduced fee. We will not be providing any special children's activities or supervision.
WHAT TO WEAR? (or do I have to wear Victorian clothes?)
The perennial question that confronts one when getting ready for a ball is "What shall I wear?" For our vintage Balls, we encourage our patrons to wear dress that is either period-style or evocative of the period or theme, but modern formal or semi-formal wear is also equally acceptable. Please don't let the lack of period or formal clothing keep you away from the ball; the most important thing is for you to come and enjoy the evening. For the evening events, dress of the era is popular but we also have many attendees in modern dress. See below for suggestions for period dress.

For those who wish to recreate the Victorian Era, we have created a guide with illustrations of some of the styles worn during this time; please visit the Fashion Section for detailed information about proper period dress and the Costume Timeline for a selection of evening fashions 1850s-1890s. For the dinner dance, the era is early twentieth century, long flowy gowns, in styles evocative of 1900-1930, and Tailcoats or tuxedos for the gents. Modern formal dresses and suits are also appropriate. For afternoon events, in addition to full period dress, of any era, summer day wear, dresses, in modern styles for the ladies and button up shirts and slacks for the gents is appropriate.
WHAT TO WEAR--MORE DETAILS
Period clothing is not required at any of the weekend's events, we usually have a mix of attendees in period dress and modern formal or semi-formal wear. Don't let the lack of period clothing keep you away, wear what makes you comfortable (no jeans or t-shirts please) and enjoy dancing. The following is an overview of what period dress might be appropriate each day.


Dress for classes: There is no need to wear period dress for classes, but you may dress in period clothing if you wish. If we weren't running around organizing the event we would probably be dressing in period wear all weekend.

Thursday Silent Film:For the Thursday evening silent film we recommend early twentieth century fashions, or something inspired by a silent film. The music Thursday night will be mixed eras so plan your shoes accordingly. Moderate heels or flats are probably best for ladies, dance oxfords for the gents.

Friday Dinner Dance:Friday night, the setting will be late 1900 to 1920s, so elegant evening wear, period or modern is recommended, especially fashions of the styles popular from the 1910s-1930s. But any era of dress is appreciated! Moderate heels are probably best for ladies, dance oxfords for the gents.

Saturday Evening Grand Ball:Costumes of the Victorian era, 1830s through 1900 are encouraged at Saturday's ball; full-length skirts that are full enough for dancing, and low heeled ballet slipper style shoes are best for the 19th century dance floor. Spike heels can be dangerous.

Visit the Evening Dress Timeline Page for a selection of evening fashions from the 1850s-1890s, or the Costume library for a number of links to pages detailing fashions of various eras.

Sunday Tea and Promenade: There is no set era for the Sunday events. Most attendees wear summer day wear from a variety of eras, we might have an 1870s bustle dress standing next to a 1920s flapper or a lady in a modern sun dress. Fashions of the bustle era and early 20th century are especially popular. Gents wear suits in a variety of styles, but a button up shirt is fine, especially if the weather is hot. Choose your favorite era, vintage or modern, we just ask that you don't wear jeans, shorts, or t-shirts. Also bring shoes appropriate for a promenade as you may wish to walk on the rocks at East Point.
If you have questions about what to wear don't hesitate to contact us (email is best):
email:
or call Katy at (781) 49-WALTZ (781-499-2589).